Maestro Winner – Elizabeth "Lichi" Fuentes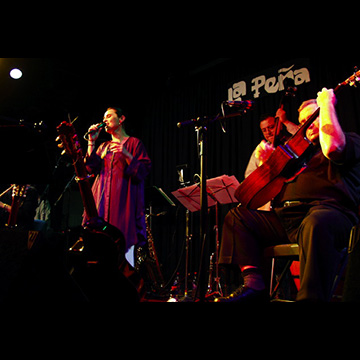 Singer, Songwriter, Activist
Berkeley, CA
While she's teaching at Oakland elementary schools, performing Latin American music for children and families in Berkeley, or traveling internationally with the La Peña Chorus, Elizabeth "Lichi" Fuentes continues to make a significant impact on her community through her music. The Chilean-born, Bay Area-based singer, songwriter and activist was awarded a LAN Maestro Award in 2012.

Growing up in San Fernando, Chile the youngest of seven children, Elizabeth "Lichi" Fuentes was always surrounded by musicians and first began playing guitar at age five.  She attended the University of Chile Music School in Santiago where she studied voice, guitar, and music theory and also formed Conjunto Amanda, the first all-women ensemble in Chile and Conjunto Araucaria, both performing "Nueva Canción" (a Latin American movement and genre of folk-inspired and socially committed music).  

She moved to Berkeley in 1980 and began performing with Grupo Raiz, a Latin American New Song ensemble.  The group toured nationally and internationally and produced three recordings (currently available through the Smithsonian). Besides teaching in the public schools, she also leads La Peña Community Chorus. Under her direction, the group has performed on several international tours to Cuba, Mexico, and Peru, Chile, Uruguay and Argentina.  La Peña Community Chorus has also recorded two CDs titled, "Recordamos" and "Siguiendo el Camino," both available at www.lapenachorus.org.  Through her work at La Peña, Lichi has encouraged women to become more proactive in the music field. Likewise, her knowledge of Latin American music has inspired others to learn about the folkloric traditions of Latin America and the New Latin American Song genre that infuses traditional music with contemporary lyrics.