Sacramento Case Study
The Latino Arts Network of California (LAN) was born out of a chain of cultural centers that linked the state. LAN is dedicated to strengthening and deepening the cooperative relationship among California's Latino artists, arts organizations and the communities we serve.
---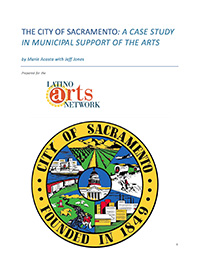 The City of Sacramento: A Case Study in Municipal Support of the Arts
At the June 2013 annual meeting of Americans for the Arts, keynote speaker Dr. Manuel Pastor, Professor of Sociology and American Studies & Ethnicity at the University of Southern California, offered these words:
"The issue of equity and inclusion, which open get left as the last thing you bring to the table, ought to be the first thing you bring to the table in order to engage the upcoming demographic."
The Latino Arts Network of California (LAN) agrees. The Network launched an initiative to study to what extent are equity and inclusion reflected in the distribution of Sacramento's public funding for the arts?
According to the State Department of Finance's January 2013 release of new population projections, California's Latino population will equal the number of non-­‐Hispanic whites by mid-­‐2013. 1 Sacramento's current population breakdown, much like the rest of the state, is becoming browner and younger:
Of Sacramento's 466,488 inhabitants, 126,276, or 26.9 percent are Latino; and
The Latino school-­‐age population is more than 50 percent of the total public school enrollment.
THE CITY OF SACRAMENTO: A CASE STUDY IN MUNICIPAL SUPPORT OF THE ARTS, authored by Marie Acosta and Jeff Jones, reviews the City's alloca=ons of public money for art and culture. We hope the study's findings will launch a dialogue about cultural equity and inclusion.
Rebecca Nevarez Director,
Latino Arts Network of California
October 2013